Mission & Vision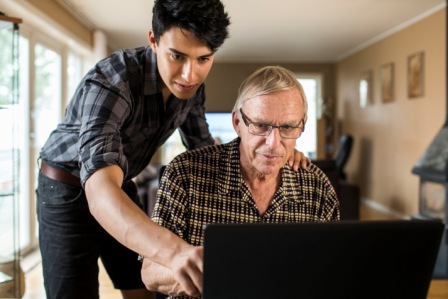 Social Interest Solutions (SIS) is dedicated to improving access to quality health and social services through technology and policy solutions.  SIS is a mission-driven, non-profit organization that puts the needs of our clients and the populations we serve at the center of our solutions.  Our success is measured not by our bottom line, but instead by the number of people who benefit from the solutions we develop, the professional services we provide, and the policies we influence.
The genesis of SIS dates back to 1999, with the development of Health-e-App, the first Web-based system in the U.S. to fully automate enrollment in Medicaid and the State Children's Health Insurance Program (CHIP).  The principals involved in the development of Health-e-App and its successor, One-e-App, subsequently founded SIS to manage the ongoing development and operations of these and other innovative technology solutions.  In 2006, SIS became an independent nonprofit 501(c)(3) organization.
Over the course of its history, SIS has successfully delivered, and continues to support, online consumer-directed health and public benefit tools, including eligibility and enrollment interfaces, in Arizona, California, Florida, Indiana and Maryland. Today, SIS continues to leverage technology and business process and influence policy with the goal of connecting people with needed public and private health and social services programs.
Media Contacts & Locations
Media Contacts
Katherine Elorduy
Director, Communications
TEL: (916) 563-0522
CEL: (916) 532-8817
kelorduy@socialinterest.org
General Inquiries
E-mail: info@socialinterest.org
Sacramento Office
3841 North Freeway Blvd, Suite 210
Sacramento, CA 95834
TEL: (916) 563-4004
FAX: (916) 566-2677
Oakland Office
1951 Webster Street, 2nd Floor
Oakland, CA 94612
TEL: (510) 834-1300
FAX: (510) 834-1301
PLEASE NOTE: We do not provide application assistance or other direct services at our offices.
Opportunities
Job Announcements
Social Interest Solutions is always looking for skilled and experienced team members. We are a full service technology and policy organization and are seeking qualified individuals with skills in project management, database administration, technology development, and more.
Procurement Opportunities
Social Interest Solutions often releases Invitations to Bid or Requests For Proposals to obtain products and services needed to enhance the support of our clients and our solutions. We invite qualified bidders to submit bids or proposals for products and services in a fair and competitive, sealed bid process.
Social Interest Solutions has released the following invitations to bid.
None at this time. Please check back.